If you're an avid podcast listener, you know that having a pair of high-quality headphones can make all the difference in your listening experience. From crystal-clear sound quality to comfort and durability, the right headphones can elevate your podcast time to the next level.
But with so many options on the market, it can be overwhelming to find the perfect pair. That's why we've put together a list of the best headphones for podcast listeners, so you can find the ideal fit for your needs. So sit back, plug in, and get ready to enjoy your podcasts like never before with the best headphones on the market.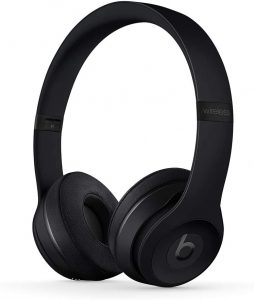 The Beats Solo3 Wireless On-Ear Headphones are the perfect companion for a day full of podcasts. With the Apple W1 chip, Class 1 Bluetooth wireless connectivity, and up to 40 hours of battery life, you won't have to worry about running out of juice while listening to your favorite shows. 
Compatible with iOS and Android devices, these headphones are versatile and convenient. The quick charge feature gives you three hours of play with five minutes of charging when the battery is low.
Price Range: ££££
Type: In-ear
Brand: Beats
Model: Solo3
Average customer rating: 4.7 / 5
Pros: Comfortable, stylish and with high autonomy.
Cons: Material could be improved
The adjustable fit with comfortable and cushioned ear pads makes these headphones perfect for daily use. In addition, the sleek and aerodynamic design is durable and portable, making it the ideal on-the-go gadget.
You can take calls, control your podcast or music, and activate Siri with the multi-function controls on the ear. Last but definitely not least, with the Beats Solo3, you can enjoy a premium sound and adjusted acoustics that maximize clarity, breadth, and balance.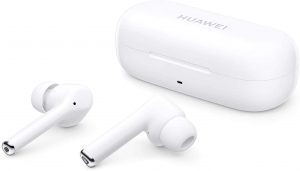 These earbuds update the FreeBuds 3 model, the best of which is their active and passive noise cancellation. Passive noise cancellation features in-ear rubber bands designed to make external sounds difficult to hear.
Active noise cancellation is possible thanks to the two microphones designed to intelligently and actively cancel noise.
Price Range: £££
Type: In-ear
Brand: HUAWEI
Model: FreeBuds 3i
Average customer rating: 4.2 / 5
Pros: It has active noise cancellation, noise cancellation during calls and pure sound.
Cons: The sound is not very clear
As you can guess, the HUAWEI FreeBuds 3i allow hands-free calls. In addition, they have a touch surface to manually perform some actions when playing podcasts or music or taking calls.
They also have sensors inside to recognise when you put them on and take them off, thus playing and pausing the sound.
The charging box has a USB type C port and a button to connect to a smartphone, while the earbuds can stay paired to the smartphone you typically use (even if it's a different device).
Although these earbuds are compatible with any smartphone, their functions will be optimised if you have a smartphone from the same Huawei brand.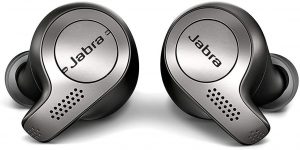 These earbuds have a curious design and structure. Although they look made of metal, they are made of plastic. However, they are compact, carefully manufactured and very pleasant.
One of the outstanding features is that they are waterproof. So they will work as usual on rainy days.
Price Range: ££££
Type: In-ear
Brand: Jabra
Model: Evolve 65t
Average customer rating: 4.1 / 5
Pros: It is waterproof and ideal for sports or exercise.
Cons: Sometimes, the bass quality can be poor.
They are pretty ergonomic and adapt perfectly to your ears, avoiding falling if you are doing a lot of movement, especially if you will use them to listen to podcasts during your running routines.
The Jabra Evolve 65t is designed to deliver high-quality audio for calls, podcasts and music. In addition, the earbuds have five hours of autonomy plus ten more in the charging case.
These earbuds also feature active noise cancellation using 4-microphone technology, especially in windy weather.
They are compatible with voice assistance through Android (Google assistant) or IOS (Siri).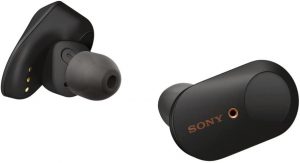 These earbuds are Sony's favourite model for small wireless formats. You change them in their box, powered by a USB Type-C port at the bottom.
The Sony WF1000XM3 stands out because it has NFC to link your phone practically and quickly.
Price Range: ££££
Type: In-ear
Brand: Sony
Model: WF1000XM3
Average customer rating: 4.1 / 5
Pros: They are ergonomic, lightweight, and have noise cancellation.
Cons: If you want them to include in your exercise routines, these are not the headphones for you.
Regarding its battery and autonomy, this device has a led light that indicates when the box charges the hearing aids, and flashes when the case is out of battery. In addition, the hearing aids have a battery, which you can charge when you are not using them. Thus, they have a full day of autonomy: 6 hours with the hearing aids alone, and 18 hours more when you put them to charge.
Their structure has touch controls that rely on one to three taps to activate listening options. These options are customised in the initial configuration of the headphones.
Be IN-EAR phones; they have excellent sound quality and active and passive noise cancellation.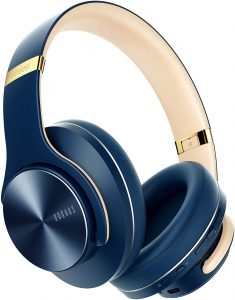 DOQAUS headphones are Over-Ear headphones, which fit around the ear. This is how they merely allow excellent passive noise cancellation with their structure. They only have this type of noise cancellation, though.
They are pretty comfortable and light headphones (they weigh only 230 grams). In addition, the upper part is made of silicone on the top of the head to provide better comfort in prolonged use, making them unique.
The structure is foldable for easy storage, needing little space. It is also an excellent way to keep them protected from possible bumps.
Price range: ££
Type: Over-ear
Brand: DOQAUS
Model: DQDQBH001NB
Average customer rating: 4.4 / 5
Pros: You can also wire them.
Cons: The microphone doesn't work on PS4.
You will find 5 buttons, a 3.5mm jack port, the charging port, and the microphone on the right headphone. In addition, you have the volume up, volume down and pause buttons, an EQ button with three pre-set EQ modes, and the power button. In this part, you will also see a led that flashes when the Bluetooth mode is activated.
The DOQAUS Wireless Bluetooth Headphones Over Ear have a hands-free option, and the battery charging cable is USB type C.
These are among the best wireless headphones because of their easy and fast pairing and audio quality.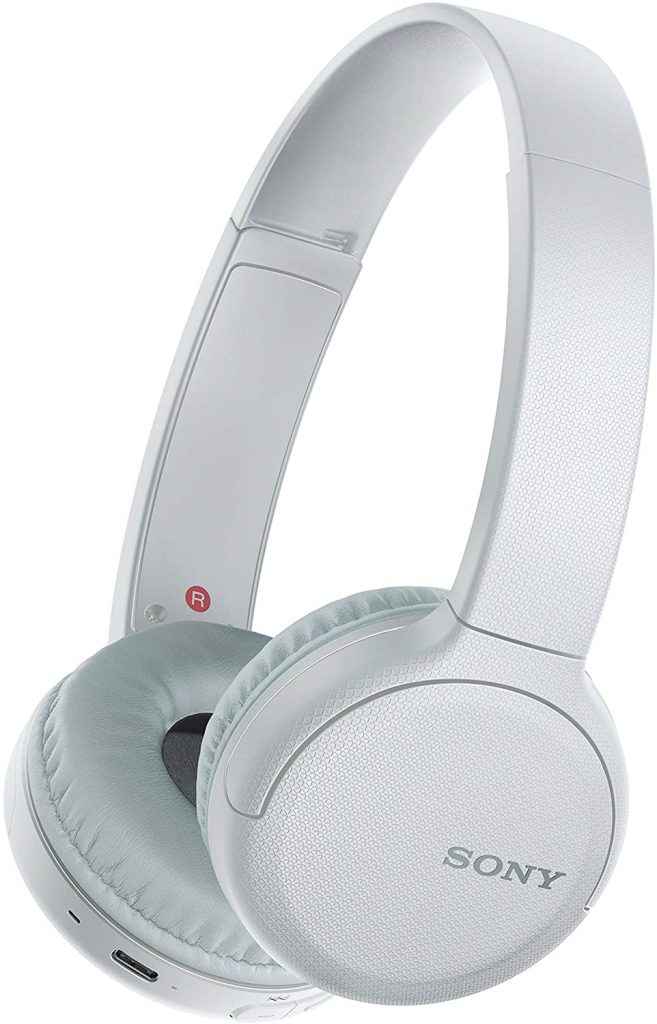 The Sony WH-CH510 are one of its most accessible Sony wireless headphones.
They are very light plastic headphones. They have an exciting look and feel, resembling carbon fibre in all available colours.
The right headphone has control buttons with forwarding, volume up and down and power options. When you turn them on, it tells you an approximate battery remaining and starts the voice assistance.
They have 35 hours of autonomy with a standard charge and 90 minutes with a 10 minutes fast charge.
Price range: ££
Type: On-ear
Brand: Sony
Model: WH-CH510
Average customer rating: 4.5 / 5
Pros: Good sound quality for the price.
Cons: Not very resistant.
In addition to listening to podcasts, you can make HD audio calls and adapt voice assistance from Siri or Google Assistant, depending on your operating system.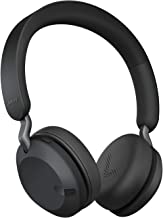 The Jabra Elite 45h stands out for its 50 hours of autonomy and the app to personalize the audio experience. We will tell you some extras that make a remarkable quality-price ratio.
These headphones are carefully made of plastic, although more resistant than other headphones made of this material. The only thing you should consider is that these headphones are not foldable, but they are very comfortable on the top of the head and the part that goes over the ear.
You will find on the right side several buttons with various functions, such as raising and lowering the volume, playing songs and answering calls.
Price range: £££
Type: On-ear
Brand: Jabra
Model: Elite 45h
Average customer rating: 4.4 / 5
Pros: It's light, has a noise isolator, and the battery lasts 50 hours.
Cons: It has no active noise cancellation.
It also has hands-free voice assistance, either by Siri or Google assistant. The hands-free function has two microphones to ensure voice sound fidelity and your commands.
This device can be configured using the Jabra Sound app, available in all app stores, which will allow you to fine-tune the sound of your earbuds and modify the sound according to your particular hearing. The latter is done through a personalized test.
As for the sound, this device has 40mm speakers that generate good bass, good mid, and equalization profiles, which is to say that they allow you to equalize in a personalized way.
Finally, the Bluetooth that this system uses is 5.0 with a wide range, so you can have your mobile phone in one room and be in another with the earbuds without a problem.
Xiaomi Mi True Wireless Earbuds Basic 2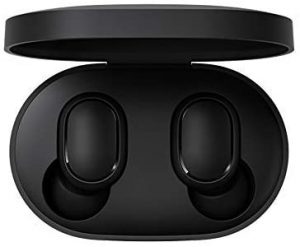 Xiaomi is a Chinese brand famous for its high-quality equipment at affordable prices. These earphones are not an exception, being the cheapest on the market.
These earbuds are stored in a box, a charger with a USB port. The design is similar to one of the Redmi Airdots from the same brand.
They can be used for calls and with excellent sound. However, you must consider that they will not allow you to record WhatsApp or native audio.
Price range: £
Type: In-ear
Brand: Xiaomi
Model: MI TRUE-X
Average customer rating: 4.2 / 5
Pros: They have a built-in microphone and built-in remote control.
Cons: Sound with a lot of basses, little autonomy.
They are very comfortable earphones and resistant to sudden movements. But, of course, they only have passive noise cancellation: their structure's shape and rubber material give the noise cancellation they have.
The Xiaomi Mi True Wireless Earbuds Basic 2 earphones are among the best wireless earphones because they are great to start in wireless headphones for an incredible price and good quality.
If you are out a lot or making calls, keep in mind that they have only four hours of autonomy.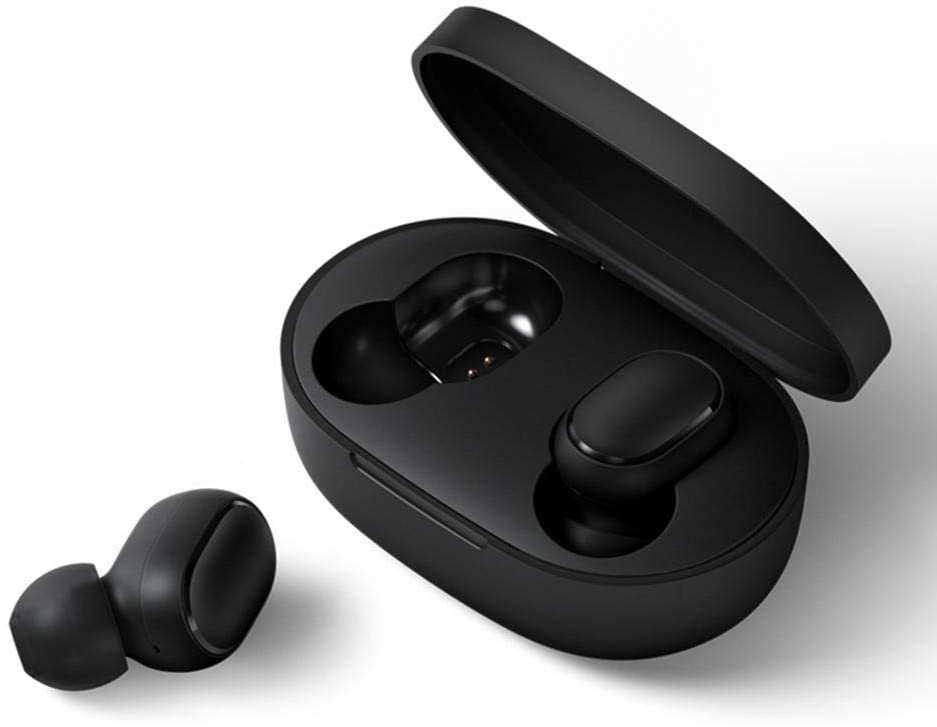 This model of earbuds follows the Xiaomi Mi True Wireless. They are very comfortable, tiny and adapt very well to your ear. They are good earbuds to wear when we train or do activities with a lot of movement. The frequency response is good, considering their cost.
They have a range of 3 to 4 hours, with an hour and a half to charge. The box is charged via a mini USB port.
These earbuds are compatible with all operating systems and have Bluetooth 5.0 connectivity, which allows you to have minimal audio latency and delay with the mobile device, almost imperceptible. And they feature zero audio latency between headphones.
Price range: ££
Type: In-ear
Brand: Xiaomi
Model: Airdots
Average customer rating: 4.1 / 5
Pros: Included microphone, remote control, and noise cancellation.
Cons: Very poor treble, little autonomy.
The Redmi Airdots are not resistant to water, but they are resistant to sweat. They are a perfect option for someone who wants to get started with their first wireless earbuds, but not for those who require excellent sound quality. If you are looking for wireless earbuds to train that will get you out of trouble in those cases, but do not want to invest too much in principle, this can be an excellent option.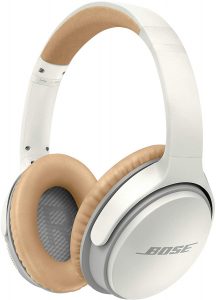 The audio quality of this headset proves that Bose is an audio specialist. While the structure is elegant and detailed, its pristine sound will allow you the best podcast listening experience.
They have earmuffs that rotate 90 degrees to allow a good rest when not used.
When you buy the Bose SoundLink II headset, you will also get a semi-hard case to store it and protect it from any fall or blow.
On the right side, you will find a 2.5mm jack, a micro USB port for charging, and three buttons to increase and decrease the volume and to pause, respectively. On the side of the headset, you will find a luminous icon that indicates the approximate status of the battery and another icon that indicates if the Bluetooth mode is on or not.
Price Range: ££££
Brand: Bose
Model: SoundLink II
Average customer rating: 4.6 / 5
Pros: You can use it wired or wireless.
Cons: Sometimes, you can hear interference in the audio.
When you turn them on, a voice tells you the status of the battery and which Bluetooth device you are connected to.
It has a hands-free function, and you can use voice assistance too.
You can listen for up to 15 hours with a two hours charge time. Alternatively, you can charge them for ten minutes, giving you two hours of autonomy.
So far, the best of the best in wireless headphones for all tastes and all budgets. The truth is that there are some specially designed wireless headphones for each user, so you can get the most out of them.
Share: