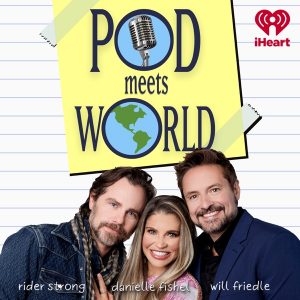 All episodes
Similar
The three that host the Pod Meets World podcast are there to take you back to 1993 when the first premiere of "Boy Meets World" took place by TGIF.
Daniel, Will and Ryder return to school to live every episode of the trendiest series again. They share their flashbacks, behind-the-scenes moments, and all the "Boy Meets World" stories that can make happy the oldest fans.
You have a new opportunity to relive your first love, first kiss, exciting moments and all life lessons with Topanga, Eric and Sean.
Host:
Rider Strong, Danielle Fishel, Will Friedle
Country:
United States
Episodes count:
145
Average duration:
50'
Frequency:
Weekly
Producer:
iHeart
Episodes
30-11-2023 01:16:08
27-11-2023 00:56:08
23-11-2023 01:13:31
20-11-2023 00:52:39
16-11-2023 01:19:56
Show all episodes
TGI – Episode 320 "I Never Sang for My Legal Guardian"
Pod Meets World