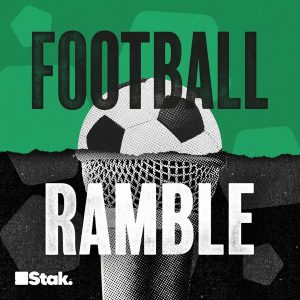 All episodes
Similar
Catch every big story in the world of football on the Football Ramble podcast. Hosted by Marcus Speller, Jules Breach, Kate Mason, Luke Moore, Vithushan Ehantharajah, Pete Donaldson, Andy Brassell and Jim Campbell, this show is the perfect guide to the football verse.
The hosts take you through a complete tour of all the football leagues with informed commentaries and analysis of the results and events. Regardless of your fan status or the team you follow, this podcast has content on and for all.
The hosts are hilarious and use their great banter to lighten up the show. Get all you need to know on the Champions League, the EUROPA League and all other competitions across the globe on the Football Ramble.
Host:
Marcus Speller, Jules Breach, Kate Mason, Luke Moore, Vithushan Ehantharajah, Pete Donaldson, Andy Brassell and Jim Campbell
Country:
United Kingdom
Episodes count:
1523
Average duration:
Irregular
Frequency:
Weekdays
Episodes
today (30-11-2023) 34:44
yesterday (29-11-2023) 56:30
27-11-2023 58:00
24-11-2023 54:12
23-11-2023 30:54
Show all episodes
Ramble Reacts: This is Manchester United
Football Ramble