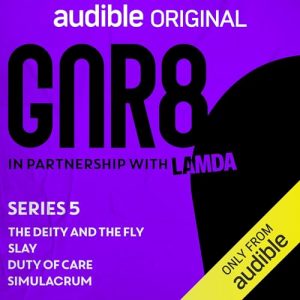 Listen on Audible for free
Try for 30 days, you can cancel whenever you want
GNR8's Season 5, presented by the London Academy of Music and Dramatic Art (LAMDA), offers four unique audio dramas about one hour long. In the first episode, The Deity and The Fly, you'll hear about Maya, a teacher facing prejudice. Then, there's Slay, where Luke and Keona dive into a chilling murder mystery. The series tackles mental health in Duty of Care and stirs curiosity about reality in Simulacrum. Each episode is well crafted, making you think deeply. It's not just about the stories; it's about the issues they raise. GNR8's latest season is a journey through compelling narratives that captivate and challenge us.
Country:
United Kingdom
Average duration:
43' - 75'
Frequency:
4-episode series released on November 16, 2023
Producer:
Audible