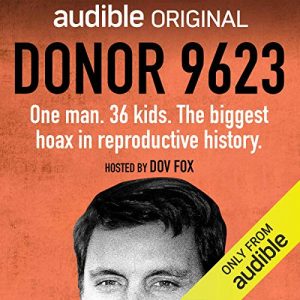 Listen on Audible for free
Try for 30 days, you can cancel whenever you want
Donor 9623 explores the complexities of sperm donation. Host Dov Fox uncovers the truth behind a massive reproductive hoax in eight gripping episodes.
With interviews that respect multiple perspectives, the series sheds light on an industry driven by profit rather than genuine assistance. In addition, it raises crucial questions about parenthood and exposes the human consequences of a system built on secrets. Donor 9623 is a must-listen for anyone considering assisted reproduction, as it reveals the dark side of capitalism and its impact on vulnerable parents.
You shall not miss Donor 9623: Season 2
Host:
Dov Fox
Country:
United States
Average duration:
30'
Frequency:
8 episodes released on Aug 31, 2020
Producer:
Audible