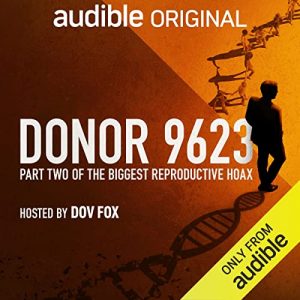 Listen on Audible for free
Try for 30 days, you can cancel whenever you want
Donor 9623: Season 2 takes us deeper into the jaw-dropping story that captivated audiences in the first season. The perfect biological specimen, Donor 9623, turned out to be a complete fabrication. Now, host Dov Fox is back to explore the aftermath. This explosive season digs into the deeply personal impact of the revelations on all parties involved. With its haunting narrative of resilience and the quest for forgiveness, Donor 9623: Season 2 is a gripping conclusion to an unforgettable story.
Host:
Dov Fox
Country:
United States
Average duration:
20'
Frequency:
Two episode series
Producer:
Audible