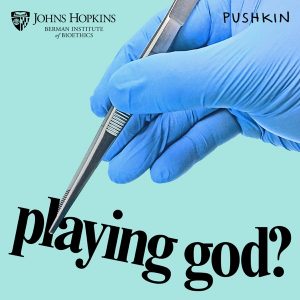 All episodes
Similar
Hosted by Lauren Arora Hutchinson, Playing God? tackles tough questions in medicine. Each 30-minute episode dives into big choices like when to turn off life support or who should get an organ transplant (and who should not). The stories are real and make you think.
You will listen to extreme stories like the one of a girl who faced death or other cases exploring what to do when a loved one can't decide for themselves, issues touching on the ethics of medicine.
Hutchinson knows her stuff; she's been producing for BBC and is the Director of the iDeas Lab at the Berman Institute of Bioethics at Johns Hopkins University.. The show features interviews with experts and comes out every Tuesday. ,
playing god? is a science podcast by Pushkin Industries.
Host:
Lauren Arora Hutchinson
Country:
United States
Episodes count:
9
Average duration:
30'
Frequency:
Weekly
Producer:
Pushkin
Episodes
28-11-2023 00:31:40
21-11-2023 00:28:25
14-11-2023 00:28:59
07-11-2023 00:34:50
31-10-2023 00:25:12
Show all episodes
Miracle Drugs, Million Dollar Price Tags
playing god?