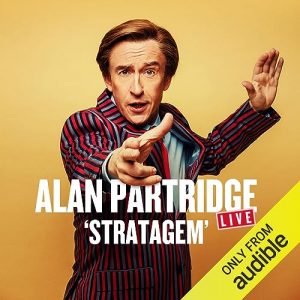 Listen on Audible for free
Try for 30 days, you can cancel whenever you want
Alan Partridge's Stratagem Tour Live is a must-see for fans and newcomers. Played by Steve Coogan, Alan brings his signature awkwardness to the stage in a way that makes you laugh and cringe at the same time. Born as a spoof of British TV hosts, Alan has won hearts across radio, TV, and even movies for decades. The tour has Alan's classic humour and a softer side, making you almost root for him. Critics call him a 'British treasure'; he's even inspired other hit comedies. This tour offers the perfect blend of humour and heart—it's classic Alan, and you don't want to miss it.
Host:
Alan Partridge
Country:
United Kingdom
Average duration:
81'
Frequency:
One episode series
Producer:
Audible