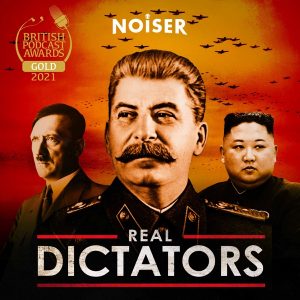 All episodes
Similar
Real Dictators is a podcast that explores and analyzes the hidden lives of both the famous and infamous tyrants through history. If you have been wondering what Idi Amin's closet looked like or the kind of drinks that Muammar Gaddafi fancied, then this is the podcast to listen to.
The dictators discussed in this podcast are not limited to a specific period in history; but instead, this show extensively covers tyrants that have existed since the inception of civilization.
All the episodes feature different despots, but sometimes two or more might cover one particular dictator because the richness of the content demands more time.
Host:
Paul Mcgann
Country:
United Kingdom
Episodes count:
109
Average duration:
40'
Frequency:
Weekly
Producer:
Noiser
Episodes
29-11-2023 00:51:38
22-11-2023 00:48:55
15-11-2023 00:49:22
08-11-2023 00:44:17
01-11-2023 00:51:56
Show all episodes
Saddam Hussein Part 3: Oil and the Ayatollah
Real Dictators