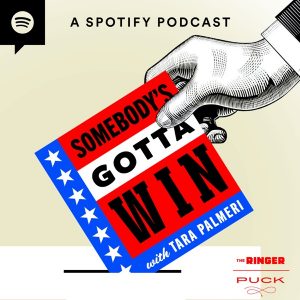 All episodes
Similar
Dive into the heart of political drama with Somebody's Gotta Win, steered by the insightful Tara Palmeri. With a rich 15-year journey in political reportage, Palmeri decodes the complex narratives of today's presidential race. Each episode, spanning a crisp 45 minutes, pulls back the curtain on D.C.'s corridors and the election battlefield. A must-listen for those hungry to truly grasp the stakes and stories of this critical election time.
Somebody's Gotta Win with Tara Palmeri is a news podcast by The Ringer.
Host:
Tara Palmeri
Country:
United States
Episodes count:
30
Average duration:
45'
Frequency:
Twice a week
Episodes
yesterday (30-11-2023) 00:39:59
28-11-2023 00:37:22
21-11-2023 00:59:34
16-11-2023 00:50:38
14-11-2023 00:49:07
Show all episodes
Is Ron DeSantis the New Peloton?
Somebody's Gotta Win with Tara Palmeri