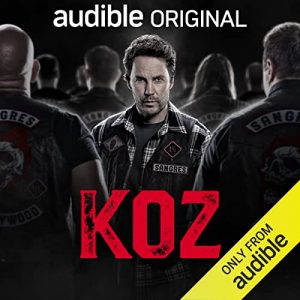 Listen on Audible for free
Try for 30 days, you can cancel whenever you want
If you're looking for an excellent read to fill your dull afternoon, here's a story of the Sangres Motorcycle Club, known for its criminal activity. The gang is responsible for drug trafficking, illegal weapon sales, and murder. However, as much as everything seems fine, the authorities have a man on the inside, Darrin Koz Kozlowski.
KOZ presents the heroic act of Darrin Kozlowski. He took on a dangerous mission to bring down one of the largest criminal organizations in the US. He risked it all to expose the operations of the Sangres brothers. You shall listen to KOZ and discover the whole confidential story.
Host:
Taylor Kitsch, Kate Mara, Darrin Kozlowski, Michael Hyatt, Xander Berkeley
Country:
United States
Average duration:
25'
Frequency:
9 episodes released on September 15th, 2022
Producer:
Audible