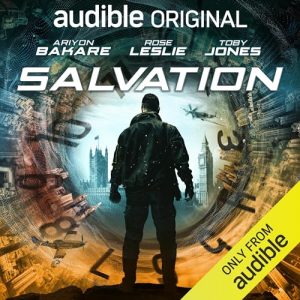 Listen on Audible for free
Try for 30 days, you can cancel whenever you want
Boasting a strong cast including Ariyon Bakare and Rose Leslie, The Salvation is an eight-episode thriller that explores the fascinating life of David Miller, a war veteran. Each episode is roughly 40 minutes, and the series plays with your understanding of time and reality.
David learns that his PTSD flashbacks are actually gateways to different time periods. Under the guidance of a mysterious figure called Fallen Arrow, he becomes a time-traveling agent. Using an extraordinary power called 'The Lullaby,' David's mission is to stop a rebel soldier from messing up the timeline.
In a world where time-travel narratives often feel repetitive, The Salvation shatters expectations.
Host:
Ariyon Bakare, Rose Leslie, and Toby Jones
Country:
United Kingdom
Average duration:
40'
Frequency:
8 episodes reselased on October 5, 2023
Producer:
Audible