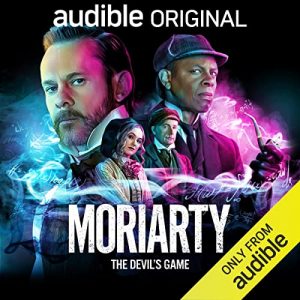 Listen on Audible for free
Try for 30 days, you can cancel whenever you want
Moriarty takes us to the unfortunate murder of James Moriarty's fiancée, Rose Winslow. His life comes to a standstill after the mysterious death, and the only way to unwrap the truth is to seek help from the renowned Sherlock Holmes.
Things went from bad to worse after he was accused of his wife's death. Moriarty must overcome hardships, escape prison, and use his wits to prove his innocence. Narrators Dominic Monaghan, Phil LaMarr, Billy Boyd, and Lindsay Whisler present Moriarty's tragic story, which represents the unfair side of our justice system.
Host:
Dominic Monaghan, Phil LaMarr, Billy Boyd, and Lindsay Whisler
Country:
United States
Average duration:
30'
Frequency:
10 episodes released on July 7th, 2022
Producer:
Audible