Discover the power of guided meditation for sleep with our carefully curated selection of soothing podcasts. In today's fast-paced world, achieving a restful night's sleep can often feel like an unreachable goal. That's where our sleep guided meditation podcasts come in to save the day.
These transformative audios incorporate calming voices, ambient music, and blissful soundscapes that have been proven to significantly enhance sleep quality. If you've been struggling with sleep-related issues, these sleeping podcasts can be a game-changer.
Embrace the sonic landscapes that will revolutionize your sleep experience and bring tranquility to your nights. It's time to embark on a new, serene path to a well-rested and rejuvenated you.
Nature soundscapes, binaural sleep music, and white noise for soothing sleep and relaxation, with diverse styles and landscapes.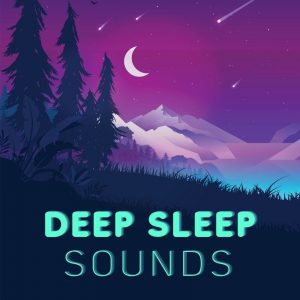 Deep Sleep Sounds soothes your senses with nature soundscapes, binaural sleep music, and white noise designed to lull you into tranquil slumber. Born from the concept of pacifying babies, Deep Sleep Sounds surprisingly also does wonders for adults seeking sleep or relaxation. It even soothes our furry friends!
You will find very diverse styles and landscapes, including a "Farm in the Alps" with delightful cowbells, the intriguing "Renaissance Village Ambience," featuring lute music amidst the market hustle, and restorative "Yoga Nidra Sleep Meditation" sessions. And, of course, the most diverse white noises.
The standard 2-hour episodes are a generous free offering. You can also go premium for 8-hour sleep sessions for extended, ad-free tranquillity.
This always helps me go to sleep whenever I can't on my own. I always wake up feeling refreshed and ready for the day ahead of me!

Listener review
Meditations, stories, and hypnosis for deep sleep, addressing insomnia and various sleep issues, promoting relaxation, and improving overall well-being.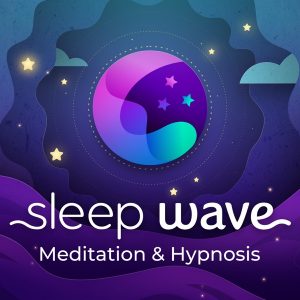 Sleep wave provides meditations, stories and hypnosis, enabling you to relax and fall asleep within minutes. Karissa Vacker, an award-winning voice and meditation guide, and Jessica Porter -who has been a hypnotherapist for more than two decades- host this podcast.
Together, the duo presents sleep meditations and hypnosis to make you have a deep sleep, resulting in a happier you whenever you wake up.
Sleep Wave – Meditations, Stories & Hypnosis provides you with a triple experience geared towards solving your insomnia.
The hosts also recognize that sometimes the problem is not as advanced as insomnia; you could lack sleep for some reason. And they provide a wide range of solutions that can cure several stages of sleeplessness.
This podcast also allows you to recharge, get your energy back, calm your anxiety, and find inner peace.
This has changed my life. I have always been a horrible sleeper. Finding these meditations have not only helped my sleep but also helped in my day to day. Such good vibes. Always something to pull from when going through a stressful time. Breathe.

Listener review
Bedtime stories narrated twice in each episode, provide a relaxing way to fall asleep quickly and soothe busy minds.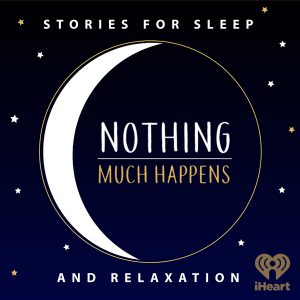 Have you tried falling asleep, and nothing much happens? Well, this podcast offers a solution. It is hosted by Kathryn Nicolai, a Yoga and meditation teacher. She presents bedtime stories that provide a soft landing spot for your brain, leading it to sleep immediately. In addition, the stories make an enjoyable and straightforward way to relax busy minds.
Unlike in other sleeping podcasts where a story is narrated once, Nothing much happens presents each story twice in the same episode. As a result, the second reading is always slower than the first, guaranteeing that you will fall asleep.
My 10 yo son and I both use this podcast to drift off into reliable, stress-free sleep. I've lived with night terrors and my son has never slept well. Finally, we have these lovely, calming, reassuring stories that work like magic! Everyone should try it!

Listener review
Guided sleep meditation & sleep hypnosis tracks for adults, aiding with insomnia and achieving deep, peaceful sleep.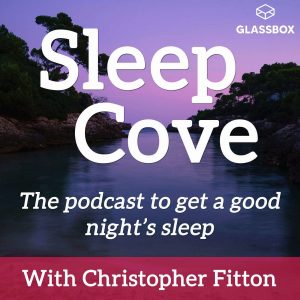 Guided Sleep Meditation & Sleep Hypnosis has several tracks, including relaxing sleep hypnosis, guided sleep meditations, and bedtime stories. These tracks are designed in a way that will help you relax and calm down. These meditations, hypnosis recordings and bedtime sleep stories are perfect for adults. They help with insomnia, sleep deprivation, sleep problems, soothing and relaxation, and achieving a night of deep, peaceful sleep.
This show is brought to you by Sleep Cove. Sleep Cove is a podcast and a YouTube channel that helps people relax in the most natural ways. It is hosted by Christopher Fitton, who is a qualified hypnotherapist. The host gives positive suggestions aimed at helping you in your everyday life.
I have struggled with sleep anxiety all my life, but Christopher has work miracles! I though medication was the only way I could deal with my anxiety, but I have fallen asleep to an episode of Sleep Cove nearly every night in the past 6 months without issue! 10/10 highly recommend.

Listener review
Read also: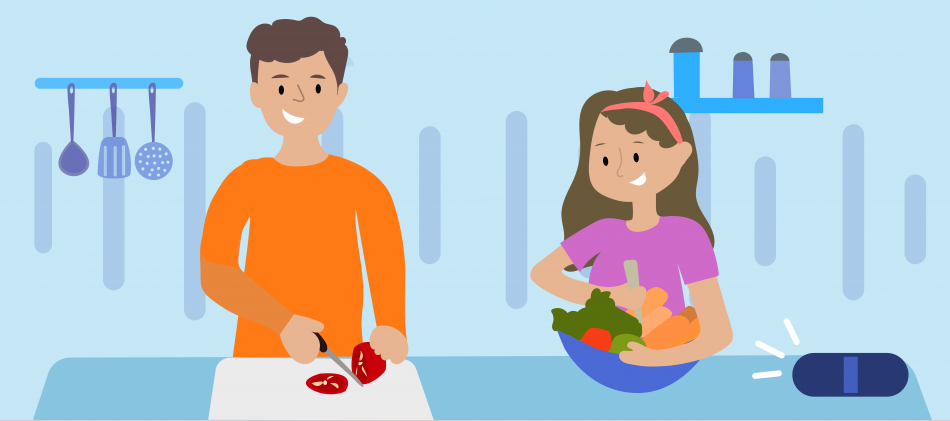 6 best nutrition podcasts for a healthy body
Guided sleep meditations and softly spoken talks for deep, easy relaxation, proven to work on anyone.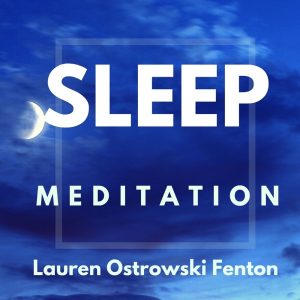 This is yet another great podcast. It comprises guided sleep meditations and softly spoken talks. The guided sleep meditations are designed to make you fall asleep faster than you usually would, sleep more profound than usual and way easier than you would.
The softly spoken talks are fit for any audience. They have been proven to work on anyone, including parents, children, adults, students and even babies! The combination of sleep meditations and softly spoken talks offer soothing comfort and relaxation. The softly spoken dialogues also feature positive suggestions encouraging natural healing and restorative rest. The more you ritualize your listening routines, the more chances of having better and better results.
Lauren Ostrowski Fenton hosts Sleep Meditation. Lauren Ostrowski is a renowned meditation teacher, meditation speaker, life coach, writer, yoga instructor, producer, YouTuber and podcaster. She uses her vast experience in these fields to present a unique and fulfilling experience on this podcast. Thus, she offers not only relaxation for the mind but also for the whole body.
Honestly, this woman has changed my sleep, and in turn, changed my life. Her soothing voice and thoughtful words and mantras ease my anxieties and put me to sleep in no time.

Listener review
Original, soothing stories and meditation to help you fall asleep faster and wake up with better focus and clarity.
Get Sleepy is a story-telling podcast with a fantastic combination of meditation and stories that will lull you to sleep. The stories are original and read out by different narrators every time. This helps create a unique experience every time you plug in to listen. Fall asleep faster with these guided sleep meditations and stories and wake up mindfully clear. Besides that, you will wake up with better focus and a higher chance of achieving your day's aims and goals.
Nothing is more guaranteed to put you to sleep than stories; this podcast has precisely that. The stories are read in calming voices and have a perfect balance between whim, beauty and boredom. As the name suggests, Get Sleepy will help you have that deep sleep you have been craving.
Calming podcast for women, providing insomnia and stress relief with healing content on peace, freedom, and acceptance.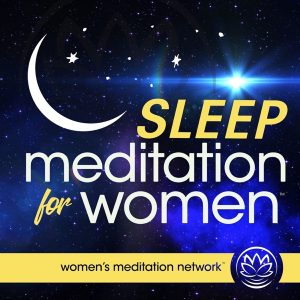 Sleep Meditation for Women offers a perfect meditation experience for any woman out there. However, that does not mean no one else can listen to this fantastic podcast. Although this podcast focuses on women, many episodes are helpful for everyone.
The podcast specializes in content that helps with insomnia and stress relief. It is hosted by Katie Krimitsos, who, at times, presents content that will help you heal your inner child and melt away any sadness that you might have. So get your headset and sleep through the doors of peace, freedom and radical acceptance as you feel the lightness induced by the unique sleep sounds from this podcast.
This channel has helped me find myself, deeply. Not only does it put me right to sleep but it sends my worries out the door. I'm Forever grateful!

Listener review
Any of the above podcasts is guaranteed to calm and relax your mind. Here is a pro tip; develop a daily sleep meditation routine where you listen to these podcasts. You will have a better sleeping pattern and feel more rested when you wake up.
Share: